If you love bananas and who doesn't, then you probably own a banana keeper or are in search of one. Then you are in luck because we'll be telling you all about the different types of banana keepers available.
Banana keepers may seem, for some an unnecessary thing; however, if you care for your bananas, you should consider a banana keeper as an investment and a staple item that you should have in your home.
Banana keepers come in different shapes, sizes, and materials. Sometimes it can be a little difficult to choose the right one for you and your kitchen needs. So we thought you might find it useful to learn more about different types of banana keepers, where to buy them, and what elements you may want to consider when buying one.
Banana Keeper FAQs
What does a banana keeper do? Are they necessary?
A banana keeper, also known as a banana hook, serves an important purpose. This helps prevent premature bruising, ultimately helping to preserve your bananas for a longer period of time. As bananas ripen, they produce ethylene gas. But without proper airflow, those gas emissions can speed up the ripening process. A banana stand placed in an area with proper airflow can help preserve your bananas' lifespan.
Do bananas ripen faster in a bunch or separated?
This is an absolute yes; bananas do ripen faster in a bunch. The reason is that the amount of ethylene gas will be more concentrated in a bunch. Contrary case if you separate the bananas.
Why shouldn't bananas be refrigerated?
Genetically bananas do not belong to cold temperatures, the reason why cooler temperatures inhibit the ripening process. If you put your bananas in the fridge, these won't get damaged. However, the skin will turn brown faster as ice crystals form in the skin cells.
Benefits of a Banana Keeper
Keep bananas ripe and delicious longer.
Hanging bananas, rather than just laying them on the counter, will help to keep them bright and delicious for longer. Cut down on brown bananas by hanging them up.
Keep countertop clear
Cut down on clutter on your kitchen countertops by storing your bananas neatly on a banana keeper.
Things to look for when buying a banana keeper
Materials
You can generally find a banana keeper either made out of wood, metal, or plastic. The material you choose will mostly depend on your personal preferences, on what you like in terms of a design aesthetic. After all, each equally serves the purpose of preserving the lifespan of your bananas.
Mounted vs. Freestanding
To make the right choice in terms of a mounted banana keeper vs. a banana freestanding, you need to think about the space available in your kitchen.
If you have a smaller kitchen where countertop space is premium, then a hook that can be mounted to a wall or your kitchen backsplash is a smart choice. In contrast, if you have plenty of space in your kitchen and you like the look of a traditional banana hook, go for a freestanding model.
Extra Storage
While the main purpose of a banana keeper serves is to hold your bananas to prevent bruising, some versions include an additional storage basket for other fruits. If you are the type of person who likes to keep your fruits and veggies outside of the fridge, then this is a great feature.
Accessories
Some banana hook models come with accessories such as a banana slicer. It's not a requirement for a quality banana keeper, but you may find it helpful to have around.
Types of Banana Keepers
This banana protector provides solid protection and convenient storage for fruits and other foods. Suitable size to hold a real banana or any other fruits like cherries, dates, grapes, etc. Compact and portable, attached with a strap, you can carry it to any place you like.
It is made of high-quality plastic, non-toxic and odorless, has passed a rigorous testing and certification process, is 100% safe to use, can provide solid protection for the fruits you brought when traveling, camping, and hiking.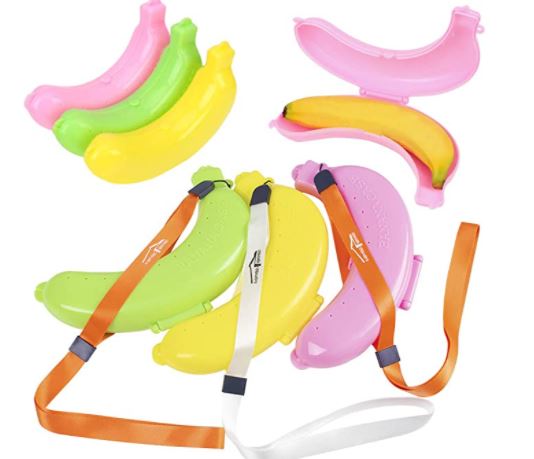 Features:
Measures 8″ × 5.2."
Made of plastic, easy to clean, solid, and durable.
Suitable for most bananas with the design of air holes on both sides, which ensures freshness of bananas in a long time
Color: yellow, green, pink
Size: 7.7x5x1.7"
Material: Safety Plastic
Package Includes: 3 Pack different colors Banana Protector Box
Forget about soggy, mushy, or bruised bananas and keep bananas looking yellow and healthier longer with this banana hanger.
For towels, coffee mugs, and other lightweight kitchen items, you can use it. Perfect for RV's, work cubicles, college dorm rooms, and studios. Easy to install. The plastic hook comes with strong self-adhesive tape and screws.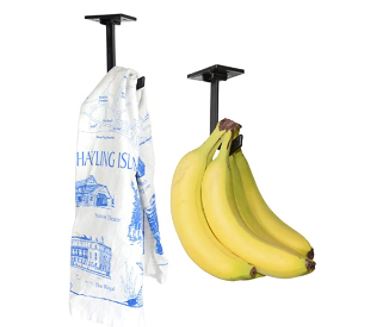 Features:
Material: Plastic
Color: Black 2-Pack
Brand: The Minimalist Home
Dimensions: LxWxH 0.2 x 2.5 x 5 inches
Maximum Weight Recommendation: 10 Pounds
Totally Bamboo Banana Hanger prevents brown and bruised bananas; hanging bananas promotes even ripening; works with grapes and other hanging fruits or vegetables.
If you care about décor, you may want to consider this sturdy design built to last with a broad base for stability. Bamboo is better for the environment; Moso bamboo is an incredibly durable material. It is also quite simple to care; just hand wash or wipe with a damp cloth; do not soak in water or wash in the dishwasher.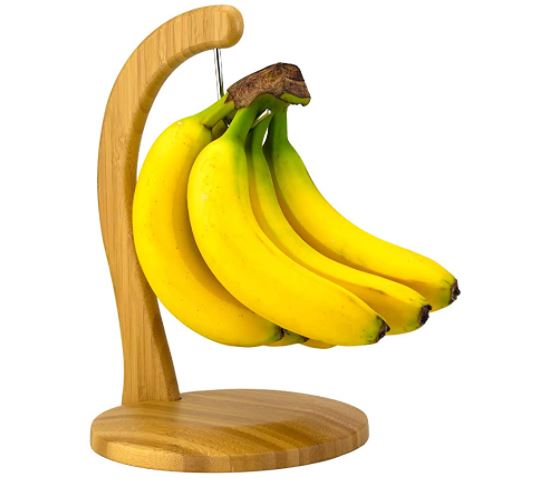 Features:
Stainless steel hook
Crafted from organically-grown Moso bamboo
Measures 11″ high with a 7″ diameter base
One-year manufacturer's warranty
This is an attractive way to reduce clutter on countertops with bananas hanging neatly in one place; the beautiful bamboo compliments most kitchen décor. This Chrome Plated Banana Hanger prevents brown and bruised bananas; hanging bananas promotes even ripening; works with grapes and other hanging fruits or vegetables. With its sturdy hook, suspend a whole bunch of bananas in the air and never worry about the holder toppling over or the bananas from ripening too fast.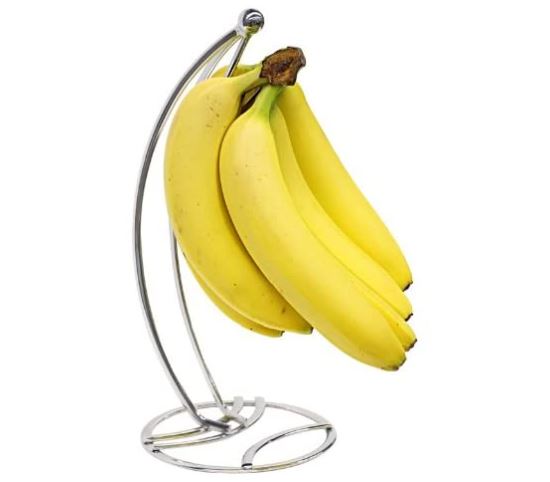 Features:
The banana tree provides easy access to bananas
Chrome finish flat wire
Holds bananas above the surface of the counter for even ripening; 6-inch by 13-inch
Keeps bananas off the counter to prevent bruising
High-grade steel wire construction. Chrome finish
The banana tree provides easy access to bananas
Highly durable
Beautiful design to match any décor
An attractive way to reduce clutter on countertops
This large fruit bowl showcases your freshest fruits with a decorative banana hanger. The fruit basket holds a lot of products and helps to keep your kitchen or your countertop organized. It is perfect for having fresh fruits ready to snack on and easy to access for kids. It will improve your kitchen décor, organization, or storage.
Has an open wire design, with a higher base than other fruit bowls in the market. Is ideal for storing fruits fresh from the market as they ripen evenly to perfection at room temperature.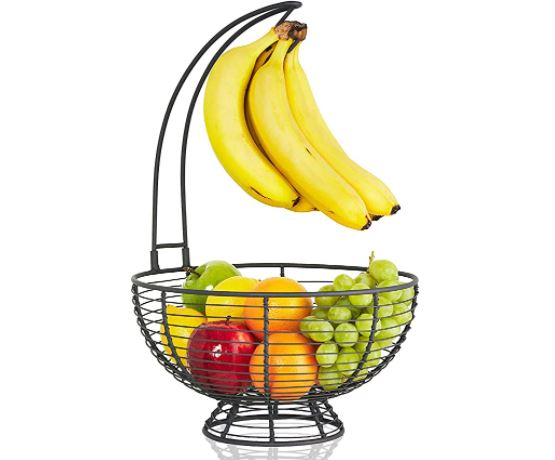 Features:
Passed US FDA 21 and CA Prop 65 testing
Elegance, quality, and durability
Keep your kitchen space organized
Allow your fruits to ripen to perfection
The basket integrates with country style, traditional, or modern decors.
It is versatile and can be used for storing tea and coffee supplies, etc.
Are interested in knowing all the different methods that you Can you Freeze Fresh Figs.