Want to know all the different ways how to freeze dried broccoli?
Are you a Broccoli lover but have a hard time keeping it fresh or in good shape at all? No worries, this is a common predicament, and we've all been there. Today we'll be sharing with you all you need to know how to freeze fried broccoli so you'll never have to toss it away ever again.
We are all guilty of allowing our veggies to die inside our fridges for whatever reason. It is vital to learn how to properly store your veggies, assuring maximum shelf life to avoid this.
When it comes to broccoli, freezing it is a great solution because this way, you can enjoy it later in soups, chilis, or pasta sauces. Contrary to what you may think, the process of freezing your broccoli isn't complicated. All you need to do is follow a few simple steps, and you'll have your veggies properly secured for a while without having to worry.
Freeze Dried  Broccoli FAQs
What is freeze-drying?
Freeze drying is the best way to preserve fresh fruits and vegetables by drying them without using heat. Freeze-dried products are "ready to eat" – they can be eaten as they are directly out of the package as a snack on their own or added to yogurt, smoothies, cereal, trail mix, salads, or other delicious foods.
Foods that contain high amounts of water work best for freeze-drying. Their structure remains intact after the process.
Does freeze drying interfere with nutrients?
The process of freeze-drying doesn't interfere with the nutrient profile or flavor. The natural color, fresh taste, and flavor remain intact. When you rehydrate, it absorbs the liquid and goes back to the same texture as fresh broccoli.
Benefits of freeze-drying?
Long shelf life
The dehydrating process removes excess water (90-95%) from your broccoli while preserving nutritional value. This lack of water leads to a much longer shelf life, up to 2 years if stored correctly.
Wholesome & Nutritious
Retaining 90-95% of their original nutritional value, dehydrated veggies are packed with the nutrients you need daily. Delicious Freeze-dried Broccoli is packed with vitamins C, A, and fiber and provides a healthy snack for both children and adults alike.
Minimal prep work
Making dishes using our freeze-dried broccoli is a breeze. Hydrate, and you're ready to go. Or eat them straight out of the package.
Versatile
Freeze-dried broccoli is fantastic in soups, casseroles, stir-fries, and even just for a snack.
How to Freeze Dried Broccoli
You can freeze-dry your broccoli, whether raw or cooked, and forget about soggy broccoli for once and for all.
Process:
Cut broccoli into small pieces so that the moisture is easily removed.
Place broccoli on a tray.
Place the tray in the freezer and freeze until solid. If possible, make sure the freezer is empty of other items. If you have a deep freezer, use it. The food should be frozen at the lowest temperature possible.
Place the frozen food in the vacuum chamber. Set the temperature to 10 °C (50 °F).
The sublimation process should be complete within a week, depending on the set parameters.
Place the food in air-tight containers for storage. Store these containers in your pantry or emergency preparedness kit.
To rehydrate freeze dried broccoli:
Add 3 parts water to 1 part broccoli.
Allow frozen broccoli to hydrate for about 20 minutes to one hour until fully rehydrated.
You can also simmer for about 10-15 minutes to cook it faster until they are crisp and tender.
Drain using a colander, and shake it to remove the water.
Ways to enjoy Freeze Dried Broccoli
Straight out of the jar
Snacking is a simple way to enjoy the benefits of broccoli. Add vitamins and minerals to your diet by munching broccoli straight from the bag/jar. It is an ideal healthy snack when doing outdoor activities, like hiking or camping.
Cook some soup
Freeze-dried broccoli is a healthy addition to homemade soup. It is a boost of flavor. To make soup mix the freeze-dried broccoli. Just add diced potato, onions, mixed pepper, and beans.
Sautéed broccoli
Sautéed broccoli takes the first price. To prepare it, heat the broccoli in water until the water boils. Reduce the heat and simmer for 4 minutes or until crisp and tender. Drain and set aside. Heat oil in a pan. Add the broccoli and a pinch of salt. Stir until it is glazed and tender. It is that simple!
Smoothies
Smoothies are also a great way to sneak the benefits of vegetables. Blend the broccoli with mango juice or yogurt and get the green awesomeness.
Buy Freeze Dried Broccoli
Check out several online options to get your freeze-dried broccoli.
This freeze-dried broccoli buds and stems retain up to 94% of their 'fresh' nutritional value. They are a delightful addition to any recipe for your morning omelet, brunch additive, or snack option for an on-the-go man, woman, or child.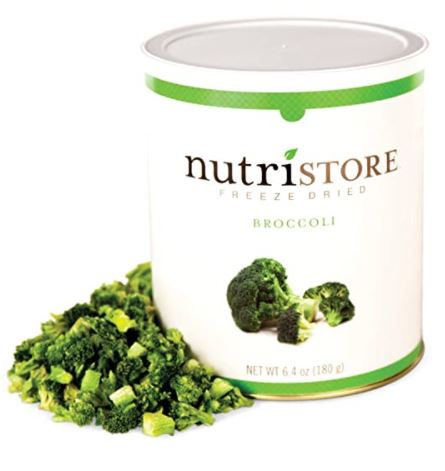 Highlights:
The cruciferous vegetable broccoli is an anti-oxidant, a natural antioxidant, and a great source of fiber.
Broccoli is rich in calcium, has antiviral properties, and helps to maintain a healthy heart.
Save time and money by using freeze-dried broccoli buds and stems in your recipes, entrees, casseroles, salads, or even just as.
An easy snack for convenience and a busy schedule
Retains over 94% of its 'fresh' nutritional value
The flavor of freeze-dried broccoli is tasty and crunchy, often delivering a potent, piquant flavor one may not get with some produce at grocery stores (due to a variety of factors)
Ideal for traveling, hiking, camping, and anything outdoorsy
Perfect for long term storage
Thousand Lakes broccoli florets are a terrific way to get more "superfoods" into your daily diet. Freeze-dried broccoli florets are a convenient way to have broccoli on hand and ready to use in soup, dip, smoothies, egg dishes (quiche), or salads as a healthy garnish. Or, eat them right out of the bag as a deliciously healthy snack!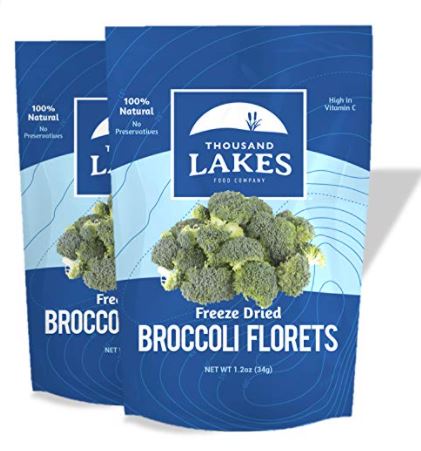 Highlights:
1.2-ounce resealable pouches (2.4 oz total) of broccoli FLORETS ONLY
100% Freeze-dried broccoli florets only (1/2″) – no stems; no added oil, salt, or other ingredients; no sulfites or preservatives.
Excellent source of fiber and vitamins A and C; Good source of calcium and iron; Certified Kosher by Blue Ribbon Kosher
Mother Earth Products Freeze Dried Broccoli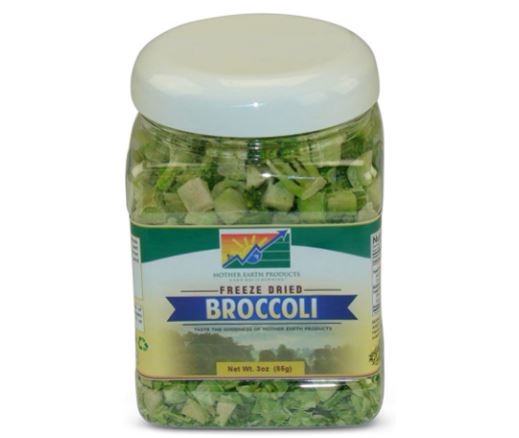 Mother Earth Products contain no additives or preservatives, making them 100% natural. Retaining 90-95% of its original nutritional value, this one is packed with the nutrients you need daily.
Highlights:
Non GMO and gluten free
Can store up to 25 years in proper conditions
Snack out of the bag or use with meals or camping
Great source of essential vitamins and minerals; One full quart in a plastic jar
Interesting in learning bout how to freeze other vegetables, for example how to freeze dried broccoli? or perhaps if you can freeze fresh Brussel Sprouts